MOTORCYCLE STANDS 101
Matrix Concepts is the off road Stand brand leader in off road motorcycling with the "who's who" of professional and amateur racers using Matrix Concepts off-road stands.
We have the right Motorcycle Stand to meet your needs with (6) six models to choose from.
C1 STAND - CARBON STEEL
Our entry level super durable C1 Stand. This is our economy priced model, but packed with a ton of features including replaceable rubber top, wide stable stance, lightweight round tubing, durable powder-coated finish available in all the team colors with graphics top all priced at only $59.95.
C1 Stand is available in 2 sizes - the mini and big bike versions.

M64 ELITE STAND - COMPOSITE PLASTIC
Next in the line up, the M64 Composite Plastic Stand. This one is used by many of the top teams in racing. They love the strength and lightweight combination. Replaceable rubber top non slip mat. Stackable for transporting more than one. Aluminum struts for reinforcement. Big customizable graphic panels. Zero returns it's so strong. $139.95.
M64 Stand available in one size but many mini riders use this one also. (Pictured below with M50 Roller Caddy).

A2 FACTORY STAND - ALUMINUM
Our most popular model is the ultimate off road stand. Used by Factory Race Teams, JGRMX, Factory Yamaha, Geico Honda & Star Racing. The A2 Aluminum Factory Stand designed by the top factory race team mechanics features includes; super strong oversized 6061aluminum lightweight tubing, anti-rock foot print, powder coated, oversized graphic panels for customization.
The A2 Stand is available in two sizes A2M Mini Stand & A2 Stand (for big bikes).
A2M Mini Stand $109.95
A2 Stand $146.95
LS1 LIFT STAND - CARBON STEEL
The LS1 Lift Stand is our newest to the line. Engineered and designed in USA and constructed from lightweight strong 1010 Carbon Steel. Wide foot print for stability, replaceable rubber feet. Oversized center tube with internally composite "Deron" composite self-lubing bushing and cam-lock "easy lift" pedal system. Custom graphic panels to customize it your way. Great for the rider who doesn't want to lift his/her bike on to the stand. You have to see this to appreciate it. Engineered for ease of use and durability, just may be the last stand you will ever buy!
One size $149.95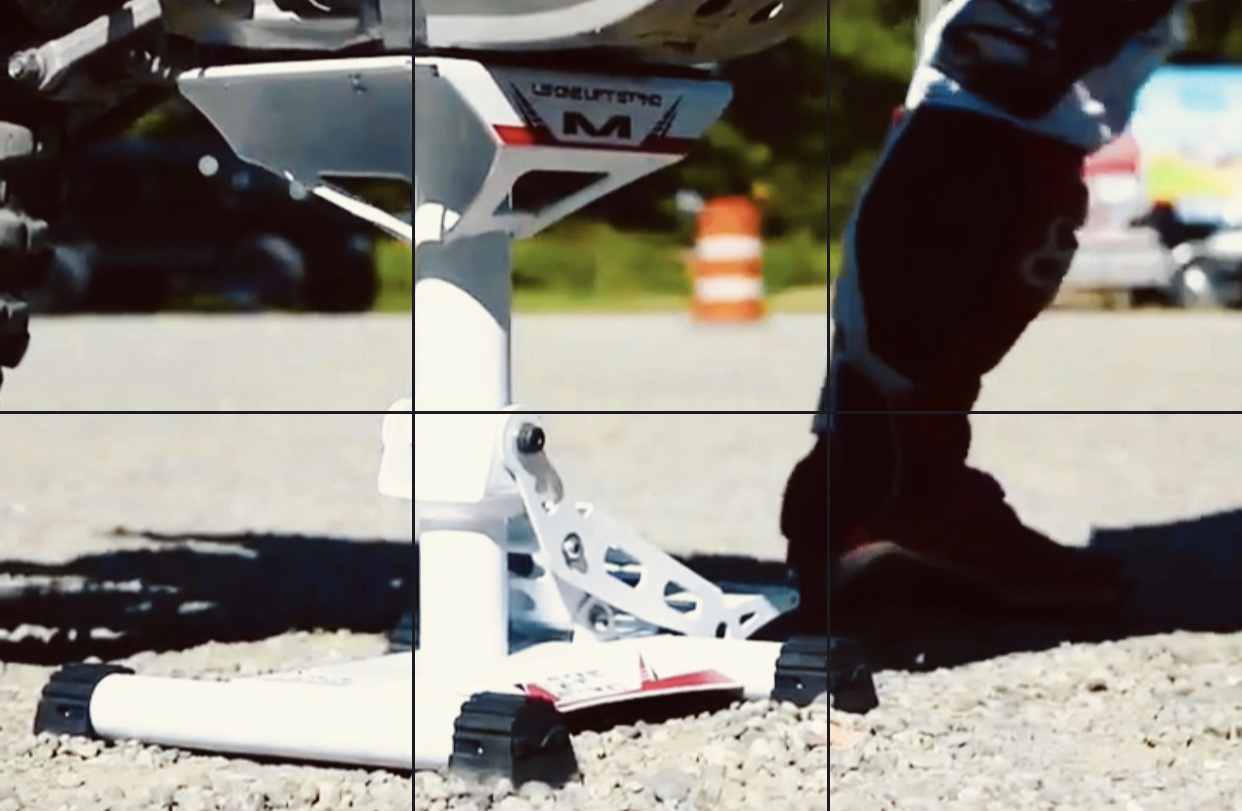 RUBBER STAND TOP "WEDGE KITS"
For bikes with angled frames. The Wedge Kits makes your motorcycle sit flat raising the front or rear of the bike. The kits comes with hardware. Bolts right on. Wedge Kits are available for all 6 Matrix Stands. There is one for every Stand model we offer.
M64 Stand
A2 & C1 Stand
LS1 Stand
C1 & A2M Mini
Only $26.95

CUSTOM GRAPHICS - CUSTOMIZE YOUR STANDS
We have several NEW FACTORY REPICA styles available.
Just pick your model, style, color, add your name and number in CUSTOM ID SECTION.
If you want logos or something special added, just add your request to the NOTES section at check out. You can email us at info@group6usa.com and we will contact you or just call customer service at 661 253-1592 with questions. Available starting at $39.95